NO HEROES - Great Beer For A Better World
No Heroes: The new social brewery. Great beer for a better world.
We brew fantastic beer and will donate at least 10% of our profits to environmental causes as well as our time and expertise
OCTOCAN 5% - a very HAZY SESSION PALE ALE
BATCAN 4.5% - an easy drinking American Pale Ale
ORANGUCAN 5.5% - a lovely easy drinking RYE IPA
SPIDERCAN our sit back and relax 5% Pilsner
The UK's only not for profit beer gift box
Our Craft Beer Gift Boxes are 100% not for profit - with all profits going to support environmental causes.
Each box will contain 8 beers and represent some of the UK and Europes best, most socially conscious and people positive breweries.
We're looking to shine the light on some of the UK and Europe's best and most socailly concious breweries. We will look to specifically feature breweries who have a charitable or stated environmental purpose as well as breweries who are going that extra mile to develop positive working practices.
Each box costs just £25.00 and each box we sell will mean TEN trees are planted in the Amazon via One Tree Planted Drink Great Beer and Do Good - what could be better!
TOGETHER WE MAKE A DIFFERENCE
Brewing beer to save the world
Our climate is changing and it's the future generations that will suffer most.
No Heroes is a new social brewery founded by a small team who want to make a lasting difference - We will donate our time, services and our money to help those grassroots organizations and people all over the world who are doing something to make a difference to all life on earth
This is for everyone's future.
Orangucan IPA - Craft Beer - No Heroes
No Heroes Black T Shirt
Octocan Pale Ale - Craft Beer - No Heroes
Octocan Pale Ale - Craft Beer - No Heroes
No Heroes Craft Beer in Glass
The feedback we've been getting so far on OCTOCAN has been absolutely awesome. You've all given us loads of great stuff to think about, and we're now planning a rebrew PLUS some new recipe ideas...🤓🍺 . . . . #noheroesbeer #noheroes #BeerDoingGood #BrewABetterWorld #causes #change #dogood #charity #charities #philanthropy #SocialGood #fundraising #community #dogood #giveback #craftnotcrap #craftbeer #beer #beerstagram #instabeer #beerporn #beergeek #ipa #beerlover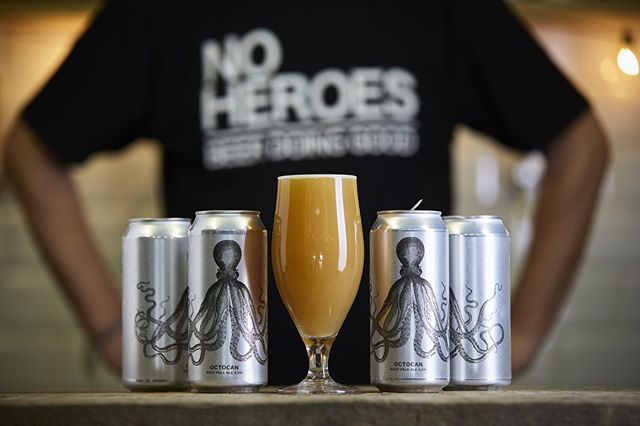 Batcan APA - Craft Beer - No Heroes